Beloved little animations
GIF animations were the first moving images on the internet. With social media, they became part of the cultural life on the internet.
The "graphic interchange format" was developed in 1987, and in its extended version of 1989 made it possible to play a succession of images as animation. Animated GIFs were the first moving images on the internet, and were extensively used, shared and widely loved.
When in 2003 it became possible to play video, the small animations disappeared, and it looked like they have gone extinct. But for some time they are back and popular again. The short, jerky and often looped animations are nowadays forming a distinct genre of images with its own aesthetic and narration. GIFs are beloved and widely shared on the social web, creating own genres of pictorial conversation – for example the so called "reaction GIF":
These are used in conversations on the web and social media and work like emojis, conveying emotions as  comments, adding contextual information. Additional to these extensions of textual conversations, there exists a wealth of beautifull crafted little masterpieces of digital animations. Here are some examples out of the collection of Shusha Niederberger, educator at HeK.
  Speaking of history: The National Archive (of the United States of America) shares a collection of historical recordings as GIF animations on Giphy, i.e. the dancing sailor below, but as well pictures from WW1  and WW2, pop culture, science, nature and a lot more.
GIF IT UP is the name of a yearly competition, initiated by the Digital Public Library of America (DPLA) in collaboration with DigitalNZ. It calls for the creation of GIF animations using pictures of public domain sources. In 2015, the competition was joined by Europeana, the european platform for access to digital content of european archives, libraries and museums. Everybody can join the competition. The only demand is to work with pictures of the associated intstitutions (DPLA, DigitalNZ, Europeana und der National Library of Australia – Trove). All submissions are uploaded to a channel on Giphy, and available for the public.
Also animator and film maker Nina Paley loves the reinterpretation of cultural goods. Her animations of prehistoric godesses became famous on the internet. Here are 6 out of 24 godesses dancing: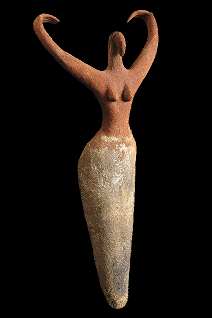 For those with an appetite to try it themselves – a small introduction
The easiest way is via Giphy platform. There you can create simple GIFs from videos and decorate them with texts, stickers and animations. You can also share your GIFs on the site.
There exist different apps for Smarphones, letting you create GIFS quickly and easily. Since the apps change fast, please use a web search for recommendations. Also: WhatsApp has recently added a feature for sharing GIFs. But if you want more accuracy and control, you can't avoid the fine-tuning with the help of an image editing program. More complex image manipulations, such as adding a movement of a small detail, changing backgrounds or insert additional elements require a bit of work. Basically, GIFs work like thumb cinemas or flip books: all individual images are stored in layers and are then displayed one after the other. In order to be able to work with layers, you need image editing software, such as Photoshop, which is very costly – an alternative is Affinity Photo, or the free open source alternative GIMP. Gimp even features a direct export mode for animated GIFs. You can find instructions for Photoshop here (work as well for Affinity), for GIMP here.